Available on dessert peach vinyl and CD
2LP pic disc. Plastic Beach also available as pic disc!
KIM GORDON: No Home Record
"provocative, challenging and effortlessly cool" "a superb genre-spanning solo debut."
New release (Wilco's 11th album!) on pink vinyl
ECHO & THE BUNNEYMEN: The John Peel Sessions '79-'83
PUNK ROCK HALLOWEEN II: Louder, Faster, & Scarier. On orange vinyl. Featuring Johnny Thunders, The Queers, Reagan Youth, and more!
BEETLEJUICE: O.S.T.
featuring collaborations with Haim, Sky Ferreria, Clairo and more
"…Vanian's willingness to explore a stylistic pallette with no debt to punk." vinyl reissue
Produced by Nick Launay (Nick Cave & the Bad Seeds, Yeah Yeah Yeahs, L7)
BEVERLY HILLS 90210 - O.S.T.
90s throwbaaaack! On translucent aqua vinyl.
Available on CD, cassette, and crystal clear vinyl
FInally available on vinyl!
21 year old singer songwriter youtube star lofi bedroom pop. Available on vinyl and CD
Heavier in shoegaze sound on ltd. grey marble vinyl
Just in time for our fav time of year!
THE MENZINGERS: Hello Exile
new release from local punks! Produced by Will Yip (Mannequin Pussy/Ceremony)
Rep Philadelphia International Records (Gamble and Huff/ Philly Soul) or Rap-A-Lot Records (Geto Boys/Southern gangsta rap)!
JOHN COLTRANE: Blue World
"Commissioned for a film soundtrack, these tracks and takes were not intended for release, but they show a group at the height of its powers…"
Featuring collabs w/ Cass McCombs, Noura Mint Seymali, and Sun O))). Includes 28 pg. booklet
MOON DUO: Stars Are The Light
Irish punks. Available on CD and vinyl
STURGILL SIMPSON: Sound & Fury
"the most left-field, decisively non-country offering of Simpson's career…"
TARENTINO EXPERIENCE: Music From And Inspired His Films
2LP featuring Dick Dale, Chuck Berry, Screamin Jay Hawkins, Serge Gainsbourg, and more!
TEGAN AND SARA: Hey I'm Just Like You
Indie rock from Copenhagen "Fusing baroque instrumentation with their signature expansive sound"
For your fridge, locker, dry erase board, filing cabinet, etc…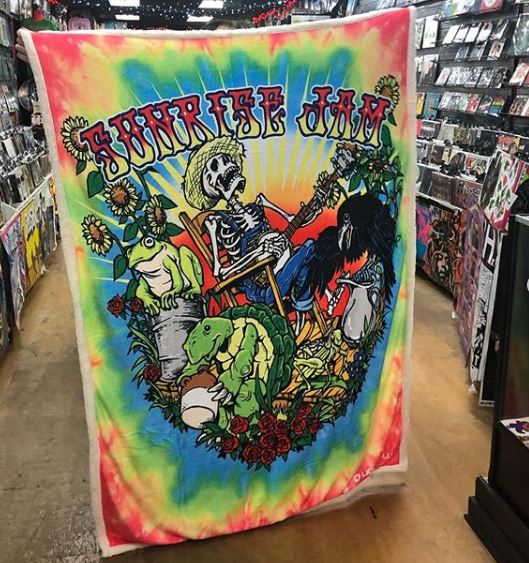 Plush blankets for Dead Heads in various styles. We have a Pink Floyd blanket too
RAPHAEL SAADIQ: Jimmy Lee
Staff pick! This 1975 release includes African, Indian, Arabic and 70's era Miles Davis style electric rock fusions. Featuring contributions from former Ornette Coleman bandmates Charlie Haden and Billy Higgins
TOKYO SHOEGAZE: Crystallize
VINCE GUARALDI: It's The Great Pumpkin Charlie Brown
It's that time of year again! You know you wanna listen to "The Great Pumpkin Waltz" B-side features cute pumpkin etching
German heavy metal / psych / prog
Dead Roots Stirring- 2nd full length. Includes poster
Reflections of a Floating World- 4th full length on 180g. vinyl
BEAT HAPPENING: Look Around
D.I.Y. 80s pop f/ Olympia, W.A. 2LP anthology handpicked by the band
Now available on cassette!
THE PARANOYDS: Carnage Bargain
Garage rock from LA. "a sonic balance of jubilant energy and foreboding undercurrents." We have ltd. copies on vinyl and CD. Catch them here for a free, all-ages show next Friday!
(SANDY) ALEX G: House of Sugar
We have ltd. autographed copies for sale on purple vinyl!
CHELSEA WOLFE: Birth of Violence
"… a kind of urgent spin on America's desolation blues… Wolfe's most devastating work to date."
JENNY HVAL: The Practice of Love
On ltd. sand colored vinyl. Comes with eight tarot cards, each corresponding to a song on the record
DOTS AND LOOPS
COBRA AND PHASES GROUP PLAY VOLTAGE AND THE MILKY
EMPEROR TOMATO KETCHUP
Expanded and remastered with demos and unreleased mixes
BELLE AND SEBASTIAN: Days of the Bagnold Summer
Soundtracked by Belle and Sebastian, this was a 2012 award-winning graphic novel by Joff Winterhart, and turned into a feature film. Available on CD and vinyl
PIXIES: Beneath the Eyrie
"…the group embraced their most gothic urges with the record's music…" Available on colored vinyl
Gruff explains: "Pang! Is a Welsh language song with an English title. It started life as a folk reel and soon expanded into a 'list' song, listing various reasons for pangs; hunger, regret, twitter, pain, bad design etc." Available on CD and vinyl
"III tells a story of addiction in three acts. As the album runs from one song to the next, it's a tale of one family facing the same problem." Available on CD and silver vinyl
KINDNESS: Something Like a War
Featuring Robyn and Philly rapper, Bahamadia! On opaque pink vinyl
LANA DEL REY: Norman Fucking Rockwell!
Staff fav. Available on all formats
back issues of music magz!
Including vintage copies of 70s Creem, Melody Maker, and Rolling Stone newspapers
VELVET NEGRONI: Neon Brown
Debut album from Jeremy Nutzman a.k.a. Velvet Negroni off 4AD. Dark and introspective experimental r&b
Includes bonus cover of Lois Maffeo's "The 2nd Most Beautiful Girl In The World"
WHITNEY: Forever Turned Around
On "forest bark" colored vinyl. Record comes with a Whitney enamel pin
THE GERMS: Live at The Starwood
On December 3, 1980, an over-sold Starwood hosted a final show of the reunited Germs… on ltd. ed. on 2LP
prints of Beyoncé, Gorillaz, Sza and more
The Flying Club Cup- The 2nd release from 2007
Guleg Orkestar- 3rd release from 2006
New release from dance-punk New Yorkers available on 2LP colored vinyl
CEREMONY: In The Spirit World Now
New off Relapse Records! Available on deep purple and sea blue half splatter vinyl
Translating to "my child" in English, Anak Ko, features sweeping, shoegazey guitars, delicate string & pedal steel arrangements, and incredible production that showcases Duterte's evolving skills in the studio. Available on red, orange, pink splatter vinyl
We have a limited run of tie dye tees in two different styles for in store purchase only
New stickers in a fresh color scheme!
KING GIZZARD AND THE LIZARD WIZARD: Infest The Rats' Nest
We think it sounds like Sleep and we love it! On black and red vinyl. Includes a 24" x 36" poster
Antichrist Superstar - on ltd. ed. colored vinyl
Mechanical Animals - Featuring " The Dope Show" on 2LP
RIDE: This Is Not A Safe Place
On blue and green splatter 2LP
SLEATER KINNEY: The Center Won't Hold
Available on regular and dlx. vinyl, cassette, and CD
If you missed it last RSD, we got these back in stock.
S/T - Debut album after the Pixies. Co-produced with Eric Drew- Feldman (Captain Beefheart / Pere Ubu)
Teenager Of The Year - "In as rich a songwriting vein as he was when in The Pixies, Teenager Of The Year is now widely regarded as the defining statement of his solo career."
EXPLOSIONS IN THE SKY: reissues
how strange, innocence - remastered and repackaged. First time on vinyl in over a decade. on light and dark blue mixed vinyl
The Rescue- On vinyl for the first time ever. remastered on opaque dusty orange vinyl
Zuu is rooted in the stories, sounds and culture of South Florida. A REPO staff favorite!
For the 90s kids! Pressed on 2LP. Featuring Aimee Man, Blur, Counting Crowes, and more
If Two Worlds Kiss
Meta
"Founded in Cologne, Germany in 1985, Pink Turns Blue's blend of atmospheric pop informed by European post-punk contemporaries and buzzing punk dissonance of Hüsker Dü (the band is named after the Zen Arcade song) immediately tapped into a new canon of sound that was foundational to the emergence of darkwave."
JERRY GARCIA BAND: Electric On The Eel (August 10th 1991)
The first official Jerry Garcia Band live release to be pressed to vinyl. 4-LP set pressed onto 180gm vinyl
BELLE AND SEBASTIAN: If You're Feeling Sinister
On colored vinyl (red) LP for the very first time
JASON ISBELL & THE 400 UNIT: Live at Twist & Shout
Recorded live during an in-store at Twist And Shout Records in 2007
RUSSIAN CIRCLES: Blood Year
TY SEGALL: First Taste
SPOON: Everything Hits At Once (The Best Of Spoon)
From The Soil To The Soul reissued for the first time on vinyl. Remastered on 180 g.
Velvet Rope and Janet reissued on vinyl for the first time!
Available on ltd. ed. orange vinyl and CD
TYPE O NEGATIVE - Bloody Kisses
Reissued and restocked once again!
MANNEQUIN PUSSY: Patience
Restocked local favs. Produced by Will Yip
DRAB MAJESTY: Modern Mirror
Staff favorite! On ltd. ed. clear red vinyl
David Berman (Silver Jews) - his newest album in over a decade!
KHRUANGBIN: Hasta El Cielo
Their album, Con Todo El Mundo, remixed in DUB! On ltd. ed. yellow vinyl w/ bonus 7" single
ED SHEERAN: No.6 Collaborations Project
Featuring Travis Scott, Chance The Rapper, Khalid, Cardi B, and more. On 2LP
BRUCE SPRINGSTEEN: Western Stars
Available on CD and vinyl
JOY DIVISION: Unknown Pleasures
40th anniversary ltd. ed. on ruby red vinyl
On double 180gm audiophile vinyl with etched D-side